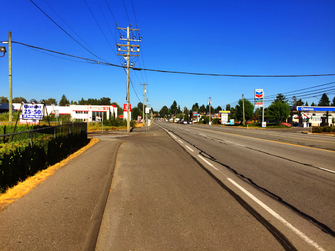 After 9 hours in the plane we finally arrived in Vancouver, Canada. Flight went well with no special incidents. But of course we had to go to the detailed customs procedure, together with a puking American. Mumbling something about bad sushi yesterday. 
During the declaration process Jo informed me about his switchblade he has with him. Damn I never knew that and to make matters worse switchblades are counted as weapons in Canada. Together with the Russian motorbike insignia we have on our jackets it cost us 2 hours not to get arrested and process through the customs. Without the knive as you assume!
Afterwards we headed to Maple Ridge to our bike shop to yield the axle clamp we brought over from Germany and to check the bikes. 
Mine is still a bit crinkled but it will work. We'll get them today and the plan is to head north tomorrow. 
See what Canada shows us.